Dialogue
The dialogue with municipalities, civil society, politics, business and science is an important success factor in the development and implementation of the NRW sustainability strategy of North Rhine-Westphalia.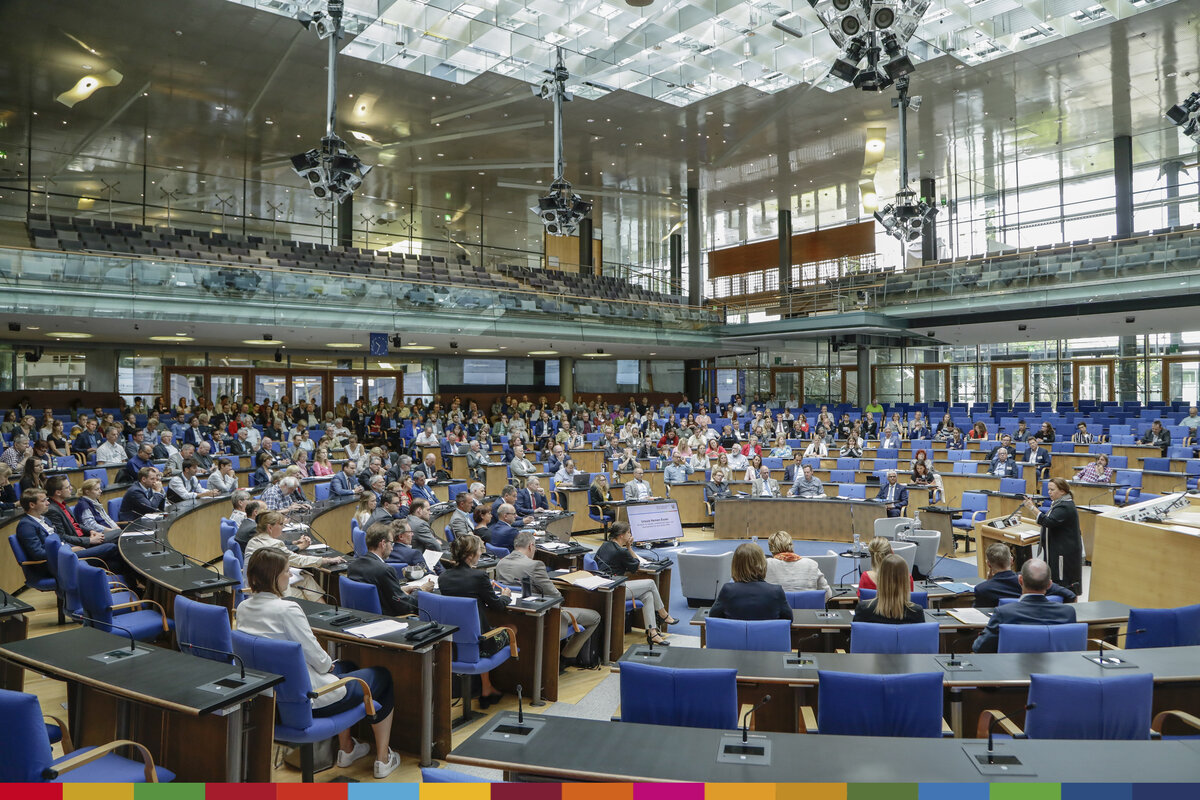 Therefore since 2012, the NRW state government has been hosting annual sustainability conferences. These were central places of participation, both for the formulation of the first NRW sustainability strategy and for its implementation and further development since 2016. Each of the conferences brought together around 400 participants from civil society, municipalities, business, and science from all over the federal state. The conferences were also forums for exchange with the federal level, with the European level, and with the NRW municipalities, and thus an important tool for a good coordination of sustainability concepts at the various levels. The NRW sustainability conferences are to continue to play a key role as an exchange and communication platform in the future. Interactive formats and the involvement of young people are to be further strengthened to highlight the intergenerational dimension.
The "Municipal Sustainability Conferences NRW", which have been held since 2014 and are organized by LAG 21 with the support of municipal umbrella organizations and funding from the state government, have proven to be an additional valuable exchange format for municipal actors from administration, local politics, and civil society. They are therefore to be continued in order to provide important impulses for sustainable development at the municipal level through the exchange of good practices from NRW's municipalities.
In another municipal dialogue format, the "Dialogue Sustainable Communities NRW", lord mayors, mayors, district administrators and councillors as well as representatives of the municipal umbrella organisations and the state government exchange views on the implementation of sustainable development in North Rhine-Westphalia.
Dialogue with municipalities, civil society, politics, business and science is an important tool of implementation of the NRW sustainability strategy.
In 2018/2019 also six regional forums on sustainability were held in in cooperation with the district governments and the RVR in the five administrative districts and the Ruhr metropolis. The aim of these forums was to address the regional level of the state of North Rhine-Westphalia more strongly. A total of over 650 participants discussed the challenges and opportunities of statewide and regional sustainability processes.
Another dialogue format is the so-called "TEAM Nachhaltigkeit" which is a stakeholder advisory board, supporting and advising the Wuppertal Institute in projects on the NRW Sustainability Strategy NRW. The "TEAM Nachhaltigkeit" consisting of central sustainability-relevant stakeholder groups from business, municipal associations, civil society and science in North Rhine-Westphalia has also contributed its different social perspectives to the discussion process surrounding the development and especially the implementation of the NRW Sustainability Strategy.